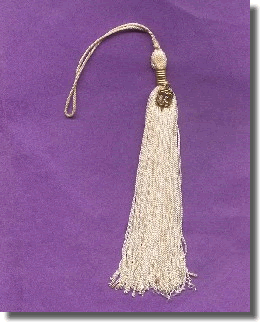 The reunion was a great success, no one wanted it to end, and everyone wants to keep in touch. I think we can & should keep this website going, and add pictures, etc. to it. We may have to move it elsewhere if it gets too big. I am intending to post pictures from the reunion over the next days & weeks. If any of you have pix you'd like to contribute, just email 'em to me and I'll try to get 'em posted as time allows.
Also, it has been suggested we hold a 50th Birthday Party in 2005 and a 35th class reunion in 2008! If these ideas sound good to you, please drop Susan Smolkovic Sillence an email. If you don't have her email address, let me know.
— Emerson "The Webmeister" Champion
Adopted member, HHS '73
The Purple And The White
Though other schools have colors
Of various tints and hue,
And some may choose an emblem
To which they stand so true,
In HAMBURG HIGH our colors
Which we hail with great delight
Are the two well chosen colors,
THE PURPLE AND THE WHITE.
The four years' course in high school,
We never shall forget.
May the time while here be so spent,
As to cause us no regret.
When we enter life's arena,
And join the world's real fight,
We will praise our Alma Mater
And THE PURPLE AND THE WHITE.